So who's sitting in the lap of luxury in Hollywood? These actors aren't just working hard, they're playing hard as well. With the recent blockbuster success of films such as Les Miserables and The Avengers, these actors are raking in the cash which far exceeds even their proposed earnings. Is it smarts or talent? Whatever these successful men are doing, they're doing something right.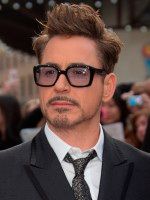 #5 Dwayne Johnson 
Racing in at number five is former wrestler Dwayne "The Rock" Johnson with the recent hi "Fast & Furious 6". A favorite among sports enthusiasts, Dwayne draws an almost cultist crowd to the theaters in any movie he chooses to perform in. Dwayne has developed his own brand of stunning charisma and seductive charm to help F&F6 pull in $695 million at a $160 million budget. His estimated income between the summer of 2012 and 2013 was $46 million.
#4 Mark Wahlberg
Mark Wahlberg's middle-age portrayal of a remorse for the party scene must have struck a chord deep within every man, considering the film "Ted" earned $550 million with a $50 million budget. Mark nearly doubled his earnings from $27 million to $52 million in one year due to the success of this most recent movie.
#3 Hugh Jackman
Hugh Jackman is the third highest paid actor in Hollywood, earning about $55 million dollars last year. Although this success is mostly due to his role as Wolverine in the X-Men films, a large chunk of his earnings come from his surprising role as Jean Valjean in Les Miserables. This film brought in $438 million on a $61 million budget.
#2 Channing Tatum
This past year, Channing Tatum and director Steven Soderbergh self-financed "Magic Mike" and pulled in  $167 million on a $7 million budget. Bypassing the head honchos at the big production companies may have been an incredibly shrewd business decision, considering the sizable profit didn't need to be shared.  Channing is estimated to earn $60 million this year.
#1 Robert Downey Jr.
Robert Downey Jr. blows the rest of the actors out of the water with $75 million dollars in earnings due to his role as Iron man in "Iron Man 3" and "The Avengers". As an extremely hard and diligent worker, he's also starred in six other movies this past year to help boost his earnings. It's rumored that he even surpassed the earnings of director Joss Whedon. It's absolutely agreeable that no one could ever replace the wit and charm he brings to the table as Tony Stark.